About AVES
In 2015 while pitching for the San Francisco Giants, Hunter Strickland met fellow outdoorsmen creating interesting products in the hunting industry. Intrigued by the quality of gear, and more so by their business models bypassing retail stores to sell directly to consumers, Hunter was inspired to apply similar steps to bring advanced technical gear to one of his passions, duck hunting.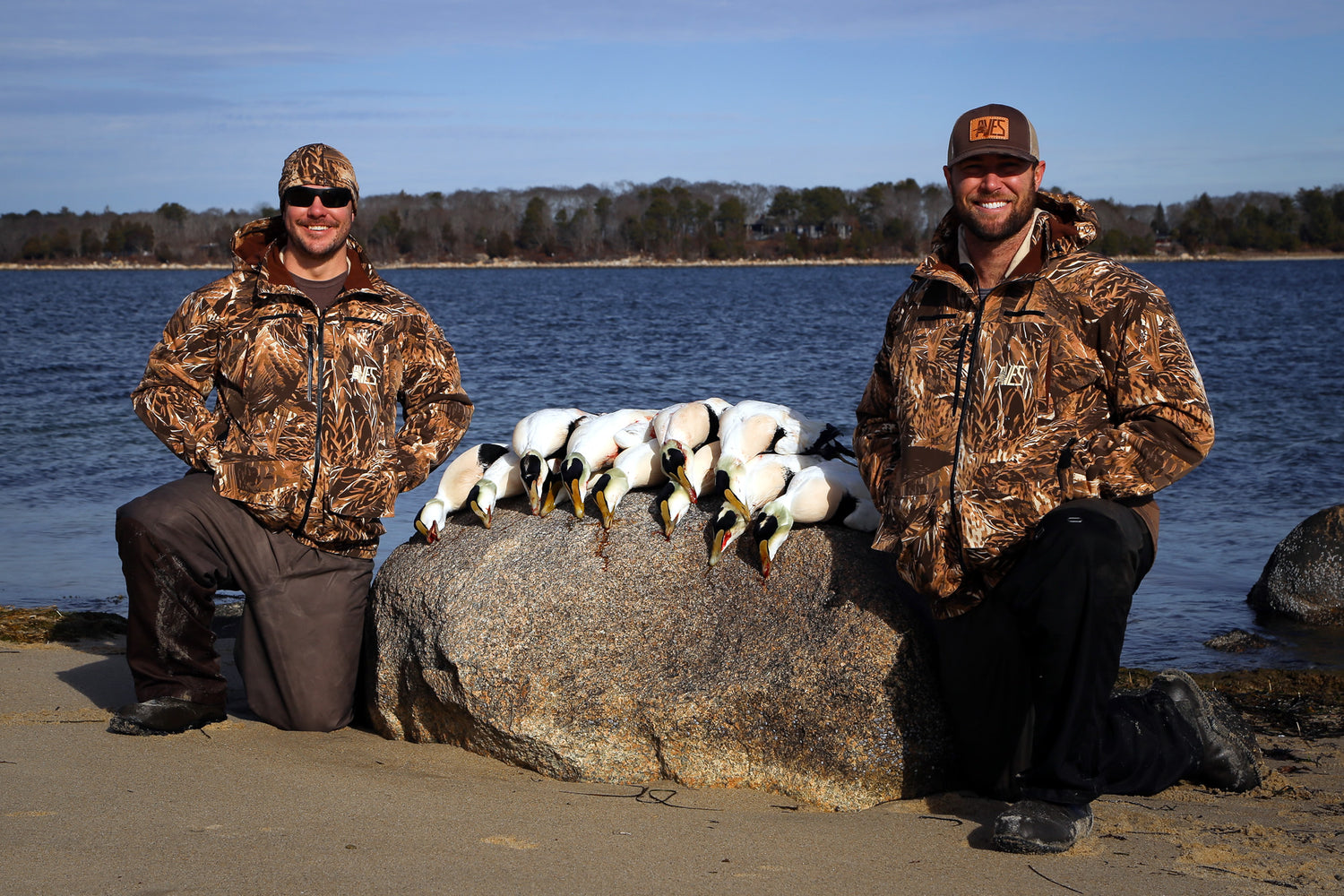 Knowing he couldn't do it alone, Hunter approached his brother Rhett, with whom he'd worked before on a small hunting company. Growing up together, Hunter and Rhett shared not only a room but also a love for the outdoors, a solid work ethic and now the determination to develop advanced performance waterfowl gear.
After a year of researching, studying and dissecting hunting gear then on the market, they contacted leading manufacturers, searching for the best materials, fabrics, insulation, hardware and manufacturing processes. It has been an adventure but we are confident in the quality and performance of our products, so much so we offer a lifetime warranty.
And by cutting out retail middlemen with our direct-to-consumer model, we are able to offer hardcore waterfowlers the absolute best technical clothing and gear at wholesale pricing. AVES is the best deal going for advanced technical waterfowl gear to maximize your hunting experience.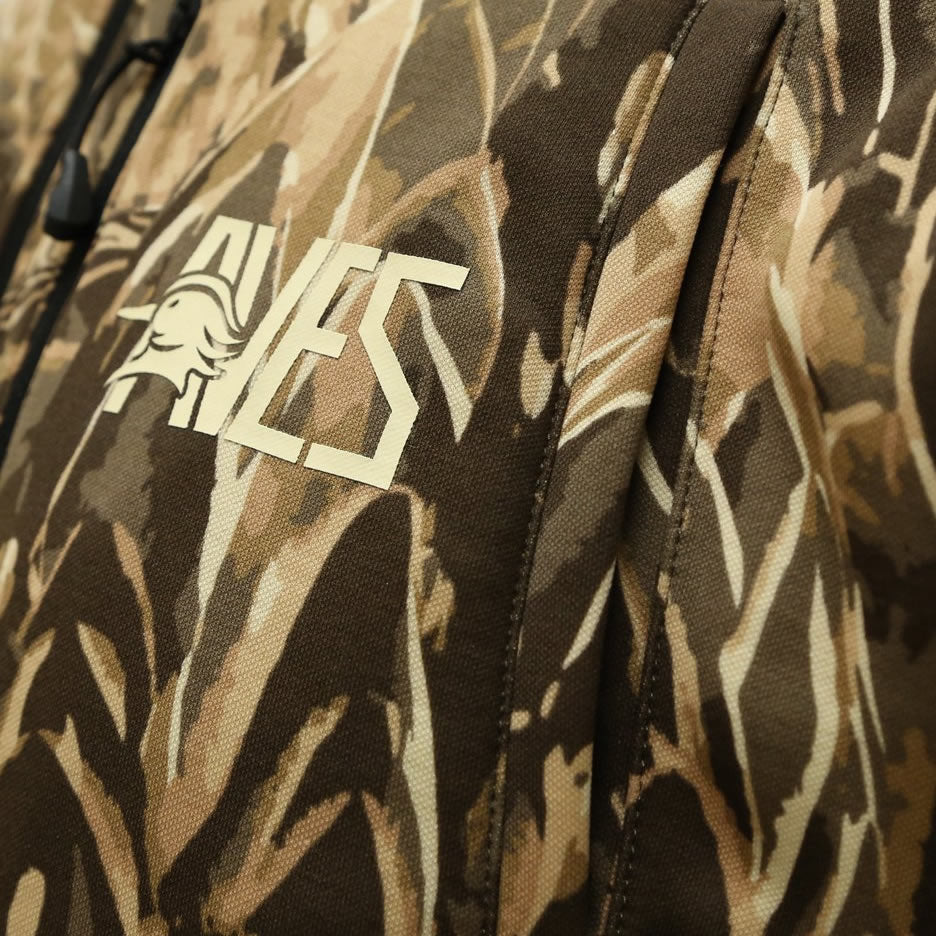 AVES Refuge Camo - The Inception
The inspiration for AVES Refuge camouflage pattern came from Mother Nature herself.
Brainstorming camo ideas while on an Ohio waterfowl hunt, Rhett Strickland's hunting buddy mentioned how hard it is to find hen mallards that fall in the marsh. Click. A light bulb came on. Nature provides hen mallards with effective camouflage to hide them, and their nests, from predators, a perfect place for us to start.

Working from multiple photos from multiple angles of hen mallards and Canada geese, as well as scans of mallard and goose feathers and even natural grasses typically found in waterfowl areas, we were able to perfectly duplicate color pallets and patterns to blend and fade into natural environments.
Hundreds of different layers of the photos were specifically spaced to create, first, a macro pattern to break up the human form from a distance; then open areas were filled with overlapping layers of smaller head and breast feathers to break up a hunter's outline at closer distances, for instance when ducks begin to drop in near your blind.
The pattern went through a gauntlet of tests, revisions and retests with a drone providing a bird's-eye views of how it blended with the environment from different distances, angles and light conditions. After all, it doesn't matter how the camo looks to your buddy, it matters how it looks to waterfowl.

Once the pattern was perfected, we incorporated an innovative water-pressed printing process that provides a non-reflective matte finish to the fabric, unlike heat-pressed patterns that create a glossy, reflective finish.

Paired with engineered, high-performance fabrics, AVES Refuge camo proved to be our vision come to life. We weren't trying to create the next camo pattern fad, but a pattern that would actually work, on garments and gear designed by and made for waterfowlers.
Hunter Strickland, Co-founder
One of my early memories is camping with my siblings and our Dad. When you grow up in a small town with four brothers and two sisters, your house rarely can contain the chaos, so we usually ventured outdoors to play sports or explore the woods. My brothers and I lived for the weekends with our Dad when we stayed in a small single-room shed with only a wood-burning stove for warmth. We spent the days hunting whitetail deer and nights sitting around a campfire. Those childhood memories with my Dad and brothers are some of my most cherished, and are the roots of my passion for hunting.
As we got older, our lives started to branch off to different paths. Our family hunting trips happened less often, and we found ourselves hunting on our own or with others. One afternoon, a buddy and I were squirrel hunting on his Dad's property when we stumbled upon wood ducks in a swamp. Both avid hunters but with no waterfowl experience, we started planning a duck hunt. I invited my brother Rhett to join us the next morning and we had a successful hunt – and were hooked on duck hunting.
In 2007, I was drafted out of high school by the Boston Red Sox. At 18 years old, I packed a few bags and headed out to rookie ball. After two and half years, I was traded to the Pittsburgh Pirates. Packing and heading to a completely new organization was intimidating. Fortunately, no matter where I went there were other baseball players who shared the same passion for the outdoors. As sometimes happen when you least expect it, you find yourself in another transition. This is exactly what happened to me in 2013 when I was claimed off waivers by the San Francisco Giants. My wife was about to graduate college when suddenly we found ourselves moving across the country. Then two months into my best season, my elbow popped. This led to Tommy John surgery and, as you can imagine, a disappointing end to my season.
A similarity between baseball and hunting is perseverance, especially when facing adversity. Ten and a half months after my surgery, I appeared in my first minor league game. Later that season, I received my first call to the major leagues. Pitching against the Colorado Rockies that day, I accomplished my childhood dream of playing in the major leagues. My whirlwind month in the big leagues was followed by an even crazier October in the playoffs. When it was over, we had won the World Series.
I am grateful for every day I have been given to play baseball. I wouldn't change either the gut-wrenching or the unbelievably thrilling memories because I believe that through adversity, you learn the most about yourself.
Rhett Stickland, Co-founder
As Hunter said, our lives revolved around the outdoors. Our Dad was raised hunting, and that passion naturally passed to us. I vividly remember loading up the truck and heading out to our camp for those weekend hunts.
As we grew up, our days were spent chasing squirrels through the hardwoods and rabbits through the briar patches. However, it wasn't until we discovered whitetail hunting that we became addicted – addicted to the adventure, to the rush, but mostly to the challenge. For young boys, it was a challenge to keep quiet and still, and to learn to be patient.
We were deeply rooted in big-game hunting, so we were surprised after our first morning after ducks in flooded timber how quickly we were consumed with waterfowl hunting. Each year as waterfowl season opened, we switched bows and rifles for shotguns. The only thing missing during those first couple years in the swamp was our Dad. He had never hunted waterfowl, but we knew our experience wouldn't be complete without him. When he joined us, just as we expected, he had an absolute blast! 
In college, I studied landscaping and farming was my first part-time job. I loved spending my days cultivating the land while dreaming about hunting. As fun as those couple of years were, I missed being home with my family, so after graduation I headed back home, bought my first house and started a landscaping company. I'm not sure if I was drawn to landscaping because I loved to be outdoors or because I knew the job would be slow in winter months when hunting revved up. Either way, it worked out great for me. Being able to jump right back into hunting with my Dad and brothers was like a breath of fresh air. Cold and wet air, but refreshing nonetheless.